Crypto assets have only been growing with time, and until last year there was no specific regulatory framework for them in the European Union. Many countries got by with national legislation while some didn't have regulations at all. That changed when the European Council approved the Markets in Crypto-Assets (MiCA) regulation. As one of the first global attempts to provide comprehensive regulatory rules to cryptocurrency markets, it should be looked at carefully. That's exactly what we'll do in this blog.
What is MiCA?
The Markets in Crypto Assets Regulation is a new piece of large-scale EU legislation designed to regulate crypto assets in the EU. This includes e-money tokens, all crypto asset service providers and NFTs in some cases. MiCA covers several key areas, including transparency, disclosure, authorisation and supervision of transactions.
To fully understand what this means, a few things need to be noted:
MiCA uses its own definition of "crypto asset": "a digital representation of a value or a right which may be transferred and stored electronically, using distributed ledger technology or similar technology".
The regulation applies to natural and legal persons and other undertakings that are engaged in the issuance, offer to the public and admission to trading of crypto assets or that provide services related to crypto assets in the Union.
Currently, the regulation only applies to crypto markets that were not previously covered by other EU legislation.
The Main MiCA Objectives
First and foremost, MiCA will provide a unified licensing regime for the EU, with no need for any national implementing laws. Four objectives are at the core of the proposed crypto assets regulation. These are:
Provide legal certainty for crypto assets not covered by existing EU financial services legislation;
Replace existing national frameworks applicable to crypto assets not covered by existing EU financial services legislation;
Establish uniform rules for crypto asset service providers and issuers at the EU level;
Establish specific rules for stablecoins, including when these are marketed as e-money tokens which are tied to other crypto assets or financial instruments.
It's worth noting that the legislation separates stablecoins into two categories: 'e-money tokens' (stablecoins whose value is pegged to a single fiat currency) and 'significant asset referenced tokens' (stablecoins that reference several other crypto assets, including fiat currencies).
Under MiCA, consumers will be better informed about the risks, costs and charges of dealing with crypto assets, and the regulation will also "support market integrity and financial stability by regulating public offers of crypto assets", as well as introducing measures to tackle market manipulation and prevent money laundering, terrorist financing and other criminal activity.
Broadly, MiCA is meant to help ensure that "the Union's financial services legislation is fit for the digital age, and contributes to a future-ready economy that works for the people".
The Effects of MiCA
Although a unified regulation is already a great benefit that will make the work much easier for the European banking authority, it is not the only plus of this legislation. A regulation like this, first and foremost, shows recognition and lends legitimacy to the crypto area. This, coupled with the knowledge that consumers are now fully protected, is bound to increase consumer confidence when dealing with crypto asset services.
The EU expects that this confidence will lead to the development of a market in crypto assets and the development of opportunities in innovative digital services. Further, a unified framework as set out in MiCA will afford CASPs (Crypto Asset Service Providers) certainty as to how the services they will be providing will be treated in different Member States.
When Will MiCA Start?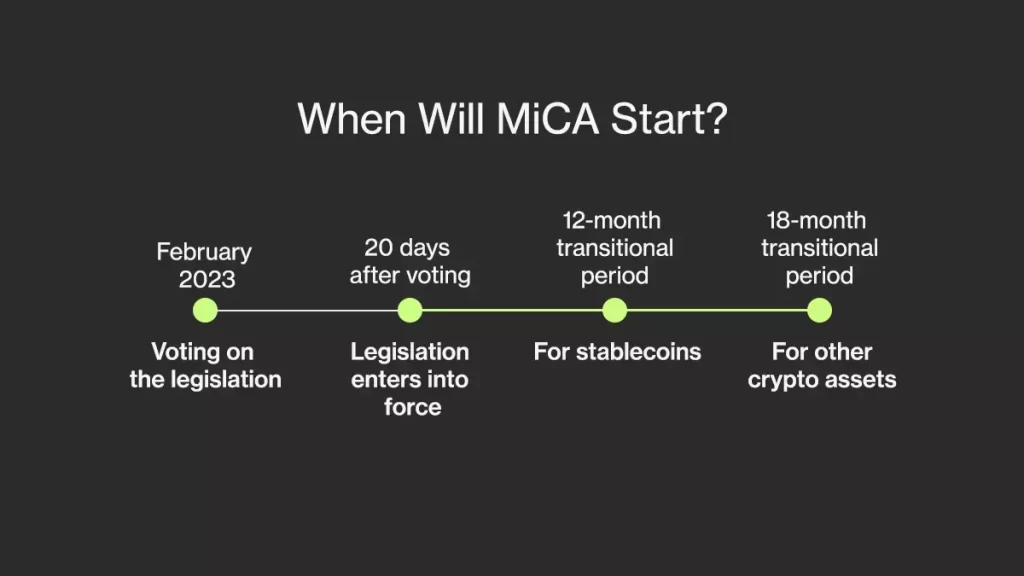 The European Parliament is expected to vote on the legislation in February 2023. Currently, there is no expectation that the bill will be resisted. 20 days after voting, it should enter into force and generally start applying after a transitional period of 18 months. Additionally, the rules for stablecoins only require a 12-month transitional period.
With that information, MiCA is likely to start taking effect in the spring of 2024.
What's Next?
Entities and persons looking to enter the CASP market should start making preparations. The wise choice would be to set up according to the requirements of MiCA early to avoid any changes later on. As the new requirements for markets in crypto assets are considered good practice, this shouldn't be difficult to achieve. On top of that, it ensures compliance before the MiCA regulation even comes into force.
If your business needs any additional information or the tools to prepare, Ondato's team is a great place to start. We've already helped our clients look into MiCA and similar legislation and are happy to do it for you.