NFC Identity Verification
A new identity verification method that's making the process much smoother for customers. Simple, quick and considered to be one of the safest IDV processes out there.
Request a demo
The modern method of KYC compliance
NFC technology isn't as rare as some might believe. NFC readers can be found on most modern phones. One press of the passport or ID card to the customer's phone, and our system has all the necessary information to confirm the legitimacy of the identity documents. This makes NFC verification accessible, efficient and quick for most potential customers.
ID verification anywhere
All your customers need is a phone and their documents. The KYC procedure can be performed anywhere at their convenience.
Registry checks
As with all of our IDV methods, the document is immediately checked against international registries to ensure it is valid.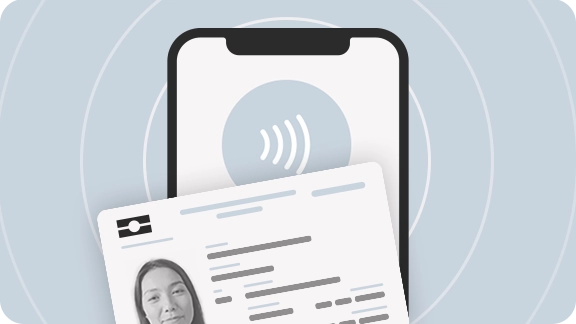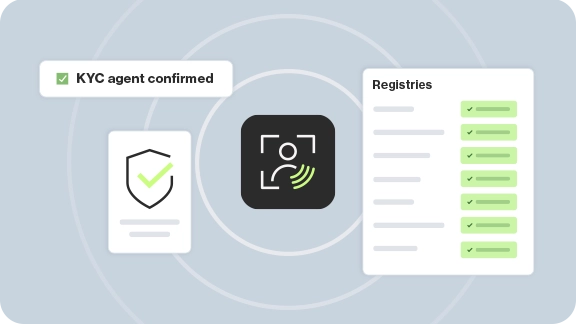 Security at the forefront
As NFC technology is still relatively new, there are currently no known ways to tamper with it. Additionally, Ondato has compiled numerous ID registries and offers KYC agents for additional confirmation. This means the identity documents overgo three distinct and secure checks before confirmation. False positives are much lower, and scammers cannot get through the system.
Easy falsification checks
NFC chips cannot be tampered with. Therefore any documents with fake information will immediately be recognized.
Biometrics and NFC
Facial recognition combined with NFC ensures the process is as accurate as possible, minimizing false negatives.
Speed
Speeds up the customer verification process, which helps retain potential customers past onboarding.
Security
As of now, there is no known method to tamper with the NFC chip. This makes falsifying documents almost impossible.
Simplicity
Removes the need for manual information input, as simple as tapping a document against a phone.
Fraud prevention
NFC-based verification can easily detect any forged documents in real-time. Saves time for you and your clients.
Next-Gen KYC Compliance
Management
Build Your Own Process
Mix and match our modules to create the perfect solution for your problems. Adapt the software to your unique business case, not the other way around.
Integrate with Customer Data Platforms
All our modules can be seamlessly integrated into customer data platforms. There you can manage cases and monitor customer actions after they've onboarded.
Flexibility Meets Innovation
Consistent with Your Branding
Reskin your verification UI the way you want it to look. We'll make sure that it aligns with your branding and tone.
Open Integration
Use our solution without IT integration or add REST API or Mobile SDK to your existing components.
Customized Forms
Customize our forms to your unique business case, and capture all the data you need.
Real-Time Adjustments
Scale up or scale down at will. With Ondato you can create the optimal solution to the most pressing KYC issues.
Process
1
Identity document confirmation
The user takes a picture of the front and back of their document. This uploads the document to our cloud. This allows our AI to use various spoofing detection checks.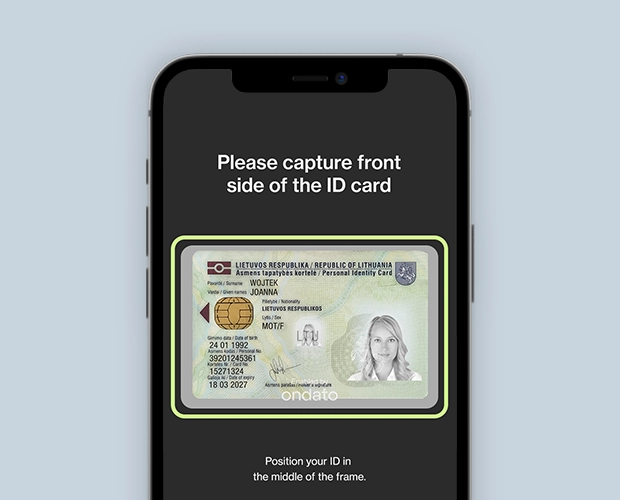 2
NFC data capture
The user uses the NFC reader on their phone to read the document. Our system can immediately catch any falsified documents due to registry checks and NFC chip protection.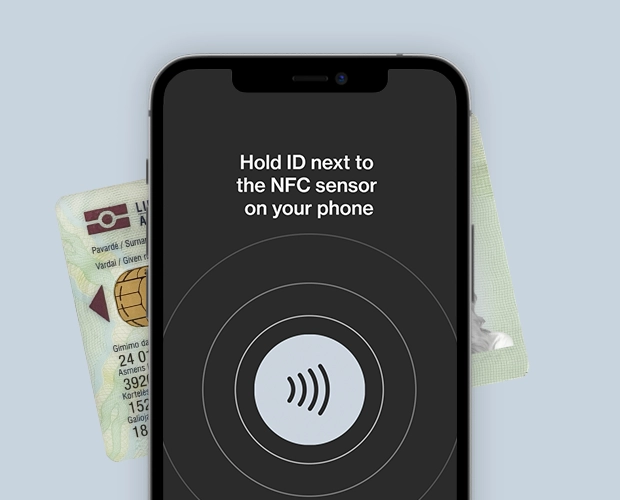 3
Facial recognition
The user takes a picture of themselves. Every check starts with a spoofing check. Once we confirm the picture isn't fake, both pictures are compared to confirm a match.
4
Finishing touches
The user is done with the process. All the data is sent to our system for final confirmation and any additional steps your business may need.
Other Identification Options
Clients
We Work With
The Ondato KYC solution is a fantastic tool that we always rely on! It simplifies the client onboarding process and lowers our operational costs. The team is quick to respond and eager to hear any concerns or suggestions. Also, they update their tools frequently, so you're always satisfied with their quality of service. We're happy to partner with a great organisation that goes above and beyond for its clients.
As fully digital bank for SMEs, we have been working with Ondato since the beginning. We are happy to have a reliable and professional partner for our client's identification services and bank customer on-boarding journey. Ondato enables us to provide fast and seamless application process for EU member citizens and services to our clients.
Ondato is a trusted and valued business partner. Their market leading age and identity verification technology is a key element of OnlyFans safety controls. We enjoy the close working relationship we have with their team and we know that they value our feedback and reflect this in their product roadmap.
Automated identity verification tool has significantly expanded the limits of our onboarding process while at the same time minimizing all operational costs and saving us a lot of headaches. With Ondato, we can finally be certain that all of our incoming customers are of permitted age and that there will be no unwanted legal or financial surprises.
Secure identity check, verification and onboarding is one of the cornerstones for digital services and society in general, during the Lighthouse program Ondato has shown their excellence in developing a real solution tackling this problem.
Ondato KYC solution allowed us to simplify the client's onboarding process and reduced our operational costs. It was the simplest and fastest integration that we have ever seen, thanks to advising and to the great support of Ondato team.
As a specialized online loan bank operating exclusively on the Internet, Ondato has enabled us to work with clients who do not have qualified e. signatures and this has helped us to significantly expand the customer base, increase sales and fulfill its vision of a full-digital bank without paper documents.
We started to cooperate with Ondato three years ago. We needed an easy to integrate one-stop-shop solution in order to evaluate customers financial information. Budget and timing were very strict, and they just nailed it.
Personal data is a core area we work with, so we had three main requirements from Ondato - bank-level security, compliance with GDPR and other international data protection laws and global database coverage. We have got ourselves a very convenient and tailor-made solution.
By taking advantage of good feedback and working their a***s off, The team at Ondato has made big strides in a short time period. They were able to transition from a fairly basic consumer facing product to a complex business solution that is of high interest to financial institutions and global payments companies.
As a leading Lithuanian crowdfunding platform that connects investors with borrowers seeking financing for their real estate development projects, we have been working with Ondato for their identification services and customer onboarding journey. Ondato has allowed us to simplify the client onboarding process and reduce operational costs thanks to its simple and fast integration. For these reasons, we are delighted to be business partners with Ondato.