Identity Verification
We use the latest AI technologies to streamline onboarding for your customers. Get to know your customers easily and thoroughly with AI-based recognition tools for digital identity verification complemented with human review. Ensuring regulatory AML compliance with the latest KYC, GDPR and AML guidelines has never been easier.
Contact Us
Digital ID Verification Options For Your Needs
A Holistic Approach to
Regulatory Compliance
Verify 10,000+ Documents
We're accepting 10,000+ documents, so wherever your clients are, we've got you covered.
Global Databases and Registries
Automatically check validity and other data with international and local registries.
Over 95% Accuracy for Biometrics Checks
Automate and speed up ID verification process with biometric technology that accurately compares its selfie with stored biometric data.
99,8% Verification Accuracy
Combine various technologies, registry checks and KYC specialist input to ensure the highest degree of verification accuracy.
Easier KYC Process for Everyone
Make your onboarding easier and more appealing for your customers with the power of AI. Use optical character recognition to save unnecessary form filling and advanced technologies to match biometric face data with the provided document. Double-check with a number of registries to ensure that all the provided data is correct in a matter of seconds.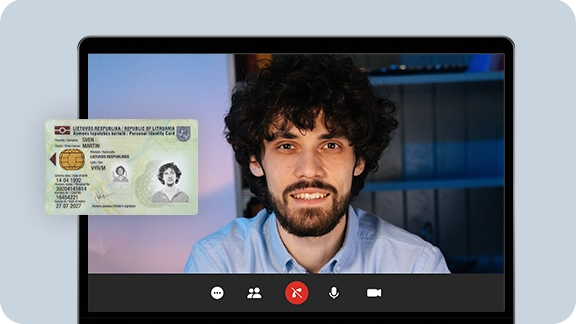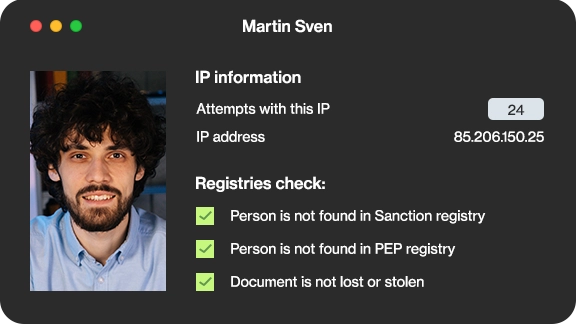 360 Degree Overview of
Your Customers
During the initial ID checks, your potential client's background and identity documents are analysed. AI quickly runs through its IP address and where its email was used previously. These checks are followed by sanctions, politically exposed persons, and adverse media screenings. All of this paints a complete picture of your potential client, allowing you to evaluate any suspicious activity and minimise the risk of identity fraud.
Four Eyes Principle
Our system relies on machine learning to detect spoofing attempts and confirm matches between IDs and users' faces. That said, it doesn't give the wheel to AI without supervision. The KYC specialist always adds a final confirmation ensuring that everything is in check.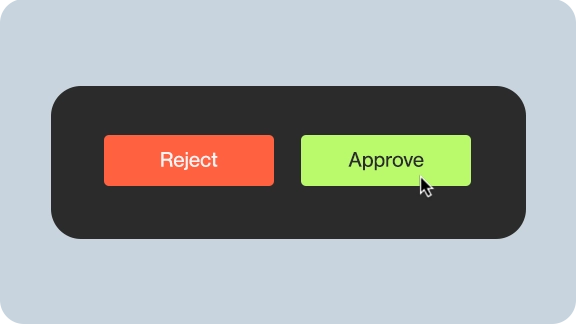 Build Your Own Process With
Background Check
E-Mail Risk Scoring
Sanctions Screening
PEP Screening
Negative Media Screening
Registry Screening
Proof Of Address
Geolocation
IP scoring
Document Verification
OCR
Spoofing Detection
Biometric Confirmation
Facial Verification
Biometric Face Comparison
Clients
We Work With
The Ondato KYC solution is a fantastic tool that we always rely on! It simplifies the client onboarding process and lowers our operational costs. The team is quick to respond and eager to hear any concerns or suggestions. Also, they update their tools frequently, so you're always satisfied with their quality of service. We're happy to partner with a great organisation that goes above and beyond for its clients.
As fully digital bank for SMEs, we have been working with Ondato since the beginning. We are happy to have a reliable and professional partner for our client's identification services and bank customer on-boarding journey. Ondato enables us to provide fast and seamless application process for EU member citizens and services to our clients.
Ondato is a trusted and valued business partner. Their market leading age and identity verification technology is a key element of OnlyFans safety controls. We enjoy the close working relationship we have with their team and we know that they value our feedback and reflect this in their product roadmap.
Automated identity verification tool has significantly expanded the limits of our onboarding process while at the same time minimizing all operational costs and saving us a lot of headaches. With Ondato, we can finally be certain that all of our incoming customers are of permitted age and that there will be no unwanted legal or financial surprises.
Secure identity check, verification and onboarding is one of the cornerstones for digital services and society in general, during the Lighthouse program Ondato has shown their excellence in developing a real solution tackling this problem.
Ondato KYC solution allowed us to simplify the client's onboarding process and reduced our operational costs. It was the simplest and fastest integration that we have ever seen, thanks to advising and to the great support of Ondato team.
As a specialized online loan bank operating exclusively on the Internet, Ondato has enabled us to work with clients who do not have qualified e. signatures and this has helped us to significantly expand the customer base, increase sales and fulfill its vision of a full-digital bank without paper documents.
We started to cooperate with Ondato three years ago. We needed an easy to integrate one-stop-shop solution in order to evaluate customers financial information. Budget and timing were very strict, and they just nailed it.
Personal data is a core area we work with, so we had three main requirements from Ondato - bank-level security, compliance with GDPR and other international data protection laws and global database coverage. We have got ourselves a very convenient and tailor-made solution.
By taking advantage of good feedback and working their a***s off, The team at Ondato has made big strides in a short time period. They were able to transition from a fairly basic consumer facing product to a complex business solution that is of high interest to financial institutions and global payments companies.
As a leading Lithuanian crowdfunding platform that connects investors with borrowers seeking financing for their real estate development projects, we have been working with Ondato for their identification services and customer onboarding journey. Ondato has allowed us to simplify the client onboarding process and reduce operational costs thanks to its simple and fast integration. For these reasons, we are delighted to be business partners with Ondato.
Identity verification can be quite expensive. We have estimated that big banks in Germany, the Netherlands, France, and Switzerland spend an average of 5.7 million on KYC processes each year. However, 74% of these costs are dedicated to labour which can be cut down on with an automated IDV process.
This all depends on the process and system your IDV provider uses. Where automated processes can usually be done in a few minutes or hours, manual processes might take a few days or even weeks.
The accuracy of IDV, of course, depends on the methods used. With Ondato's software, we can currently boost a 99.8% accuracy.
This all depends on regulations but the most common requirements include a governmental ID and a selfie picture captured at the time of the verification process.
Identity verification is a legal requirement for money laundering prevention and combating terrorist financing. This is needed to prevent financial crime as well as protect the company's reputation and avoid anti-money laundering fines.
Identity verification is the process of confirming or denying that a claimed identity is correct by comparing credentials such as biometric data, ID documents and more of a person.
Digital ID Verification Options For Your Needs