Sanctions screening is the process of determining whether a country sanctions a person, company, or other entity. This procedure is typically included as part of comprehensive Know Your Customer (KYC) and Anti-Money Laundering (AML) compliance programs. By ensuring effective sanction lists screening, businesses can avoid unknowingly engaging with countries that violate international law or are perceived as a security threat.
Sanctions lists has never been more important as geopolitical tensions and financial crime continue to rise. Organizations must cut ties with sanctioned entities in order to avoid financing illegal activities, protect their reputation, and avoid regulatory penalties.
However, the exponential growth of financial sanctions has compelled financial institutions and other obligated organizations to thoroughly investigate every transaction. As a result, the workload has increased and operations have been delayed. Continue reading to find out why sanctions screening is important and how to improve its efficiency.
What Are the Benefits of a Sanctions Screening Procedure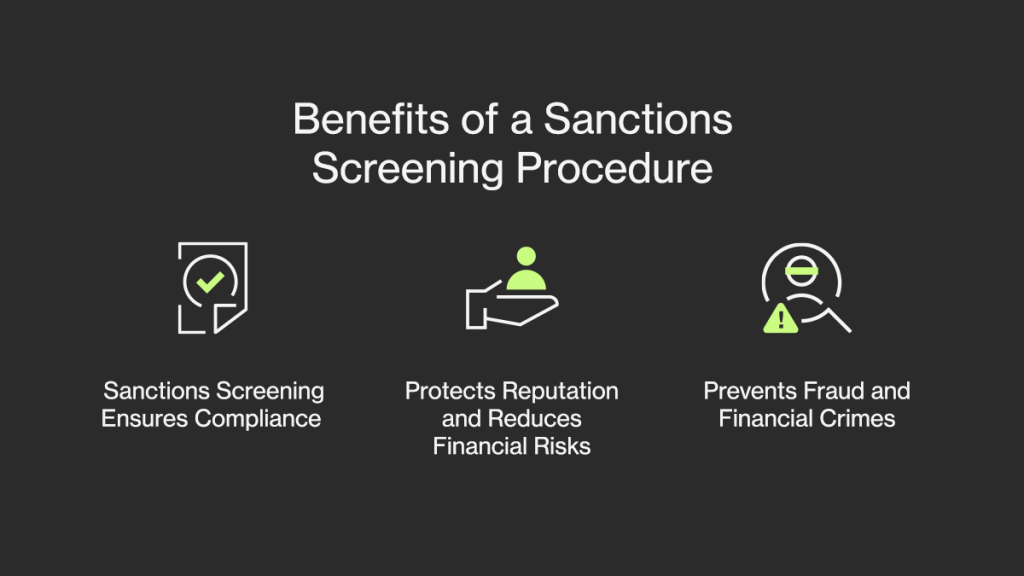 Sanctions screening is an essential element of every adequate compliance program. While, historically, the process was mainly a concern of financial institutions, regulators have broadened its scope over time. Every company is now required to check its clients and partners against the sanctions list.
Let's discuss the benefits of sanctions compliance and why companies should implement it.
Sanctions Screening Ensures Compliance
Sanctions lists are strict laws prohibiting certain activities, such as wire transfers, with individuals or companies operating in penalized countries. They are designed to protect national security and ensure compliance with international rules and obligations. As a result, many regulatory bodies worldwide require organizations to comply by implementing sanction screening.
Protects Reputation and Reduces Financial Risks
A partner or customer of an organization can be sanctioned at any time during the business relationship. Failure to cut ties with a sanctioned entity may result in significant compliance penalties. However, financial loss are not the only ones to be concerned about.
Sanctions compliance also assists a company in avoiding legal risks associated with having employees or customers on blocklists — risks that can tarnish a company's reputation if they are not addressed promptly.
Prevents Fraud and Financial Crimes
Sanctions screening is an effective way to deter potential fraudsters and ensure the trustworthiness of your business partners. Sanctioned individuals may hide behind complex corporate structures or engage in money laundering to bypass financial restrictions.
That is why this procedure, particularly when combined with Ultimate Beneficial Ownership (UBO) and supply chain information checks, can halt financial crimes in their tracks.
Who Are the Most Important Sanctioning Bodies?
The relevant sanctioning bodies depend on the trade territory, currencies, and partnership of a particular business. The most relevant bodies for those businesses operating in US and EU are:
HM Treasury Sanctions List. The UK consolidated list of sanctions applies to individuals and legal entities operating within the UK. Office for Financial Sanctions Implementation (OFSI) ensures that UK sanctions are implemented and enforced.
Office of Foreign Assets Control (OFAC) Sanctions List. The list applies to all US citizens worldwide, businesses operating in the US, and every entity that trades in the US or uses goods made in the US.
EU Consolidated List of Sanctions. The list applies to all EU citizens, no matter their current location and legal entities situated in the EU.
The United Nations Security Council sanctions list. The list applies to the UN state.
How Does Sanction Screening Work?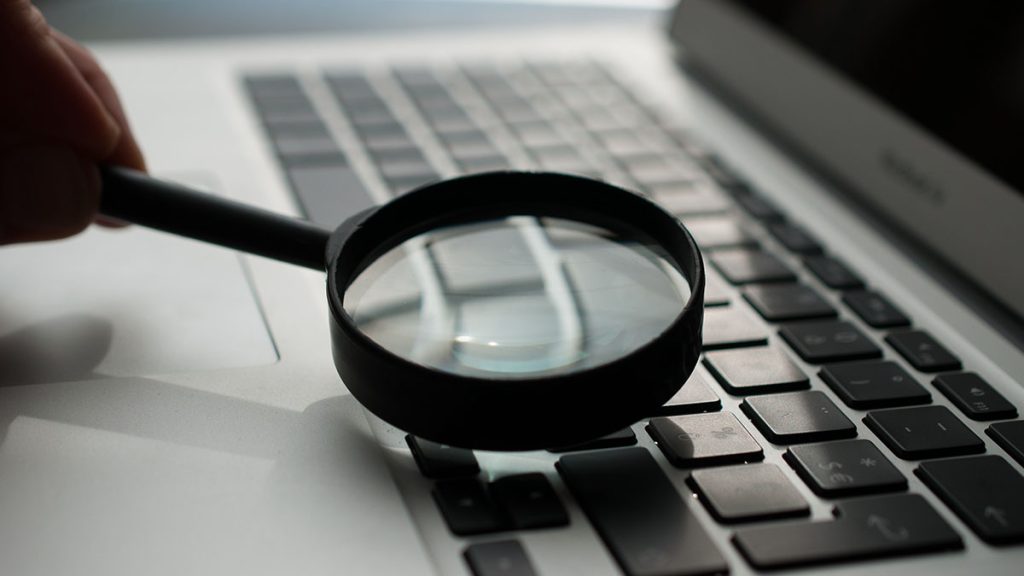 Screening sanctions lists may seem like a simple procedure. All you have to do is check your client's information against sanctioning bodies' lists, right? The truth is, to deter false positives and determine an accurate match, institutions should deploy a complex screening program.
What Are the Key Components of Sanction Screening Program?
The following are typical components of an effective sanctions screening procedure:
Documentation of all applicable policies and sanctions lists. To determine the applicable sanctions laws, collecting all relevant information about the institution's geographical location and clients is critical. The documentation should serve as a guideline for what needs to be screened, screening frequently, and its context. It should also determine what constitutes a risk alert and how to resolve it.
Procedure for matching sanctions lists. When a screening procedure generates an alert, it does not always indicate a true match. It frequently refers to an increased risk of sanctions exposure, implying that proper procedures are required to determine an actual match. To handle false positives, the process necessitates specific workflows, matching rules, and a set of actions.
Procedure for conducting due diligence. Regulations require sanctions screening for all new and existing clients. Customer due diligence procedures should be specified and carried out by entities in order to collect appropriate data and get to know their customers.
Risk assessment. Specifying and documenting potential sanctions risk associated with specific products and services can aid in the implementation of a more sustainable and effective procedure. International transactions, for example, may necessitate more stringent screening than domestic transfers.
Ongoing monitoring. Sanctions screening does not end with onboarding. Organizations should screen their existing customers throughout the duration of the business relationship to ensure that the status hasn't changed. Regulations require entities to specify and document the periodic sanction screening for all customers.
How Can Your Business Improve the Effectiveness of Sanctions Screening?
Government bodies are using economic sanctions as an effective political foreign policy tool. For example, Russia has recently become the most heavily sanctioned country in the world. In total, 12,662 restrictions were imposed on the country's individuals, companies, vehicles, and aircraft. Nearly 10,000 of these sanctions were issued following Russia's invasion of Ukraine.
The rapid increase in sanctions has put a tremendous strain on businesses. The workload has increased dramatically, causing critical operations to be delayed. As a result of the situation, compliance professionals are looking for ways to improve the effectiveness of sanctions screening.
One of the most efficient approaches is to eliminate manual processes. It's critical to have a well-developed screening software solution in place, one that allows you to make decisions quickly and efficiently so your company can focus on core operations rather than getting bogged down with paperwork and manual processes.
A well-designed sanctions screening service will enable automation across all departments within an organization, ensuring that everyone is kept up-to-date on ongoing issues involving high-risk individuals or organizations. This prevents delays in decision-making based on potential risk associated with new vendors or clients.
Additionally, the software allows to screen sanctions at a lesser cost than manual processes. It saves time and helps avoid human error.
Conclusion
The bottom line is that sanctions screening is an essential component of any KYC and AML procedure. It is critical to have a solid screening process in place, not only for compliance but also for the security of your company.
The best way to ensure compliance is to implement a well-developed sanctions screening service. Automation will help reduce the time and cost of the process while keeping everyone in the company informed of potential risks.