Customer Data Platform
Easily manage your user base from a centralized hub no matter whether you're dealing with natural or legal entities. An all-inclusive dashboard covers all the areas from monitoring to tools for external communication.
GET A FREE DEMO
Comprehensive
Management Suite
Complete Userbase Overview
Have all your users in the palm of your hand. Access their cards from a single dashboard, and classify them according to various groups and preferences.
Perpetual Monitoring
Don't rely on self-reporting to manage user data changes in your database. Rely on ongoing monitoring solution that will alert you of the approaching expiration dates or the status of your client.
Instant Communication
Reach out to the users via the same platform. Ask for data updates and clarify suspicious developments in the nick of time.
Track Your Database's Health
Access all the essential metrics and evaluate risk profiles and their developments over time. Form instant reports and always be in the loop of what is happening with your customers.
Data-Driven Analytics
Orchestrate your entire client database. Evaluate their risk profiles, monitor registry changes, and get various business insights delivered straight from the main dashboard. Supervise the complete lifecycle of your customer's journey with one tool.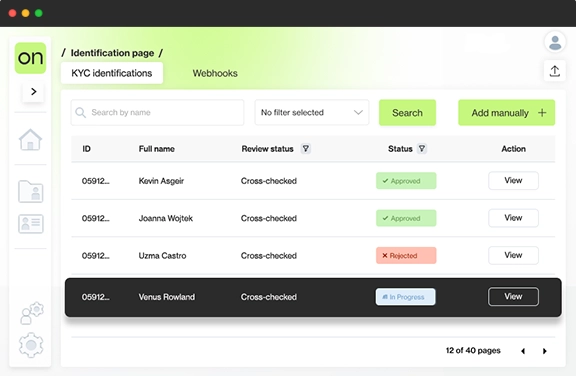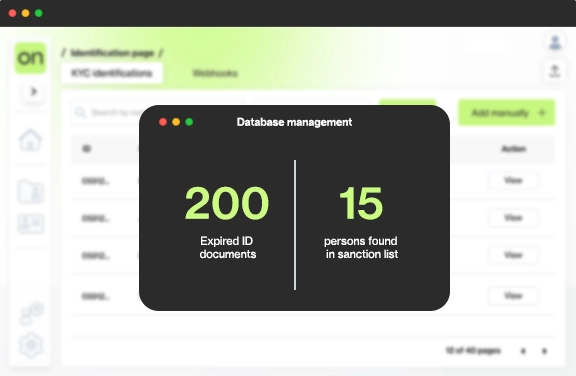 Integrated Database Management Tools
Stay one step ahead of data expirations and stay informed on time. Customize every step of your workflow, including direct contact with your users. Reach out to give reminders or update your data sets with up-to-date information. If there's a precedent, have quick access to reporting toolkit with full action logs.
Monitoring & management tools
Monitoring
Customer Risk Scoring
Registry Monitoring
PEP Monitoring
Adverse Media Monitoring
Sanctions Monitoring
Userbase Analytics
Document Verification
External Communication Tools
Reporting
Case Management Platform
Clients
We Work With
The Ondato KYC solution is a fantastic tool that we always rely on! It simplifies the client onboarding process and lowers our operational costs. The team is quick to respond and eager to hear any concerns or suggestions. Also, they update their tools frequently, so you're always satisfied with their quality of service. We're happy to partner with a great organisation that goes above and beyond for its clients.
As fully digital bank for SMEs, we have been working with Ondato since the beginning. We are happy to have a reliable and professional partner for our client's identification services and bank customer on-boarding journey. Ondato enables us to provide fast and seamless application process for EU member citizens and services to our clients.
Ondato is a trusted and valued business partner. Their market leading age and identity verification technology is a key element of OnlyFans safety controls. We enjoy the close working relationship we have with their team and we know that they value our feedback and reflect this in their product roadmap.
Automated identity verification tool has significantly expanded the limits of our onboarding process while at the same time minimizing all operational costs and saving us a lot of headaches. With Ondato, we can finally be certain that all of our incoming customers are of permitted age and that there will be no unwanted legal or financial surprises.
Secure identity check, verification and onboarding is one of the cornerstones for digital services and society in general, during the Lighthouse program Ondato has shown their excellence in developing a real solution tackling this problem.
Ondato KYC solution allowed us to simplify the client's onboarding process and reduced our operational costs. It was the simplest and fastest integration that we have ever seen, thanks to advising and to the great support of Ondato team.
As a specialized online loan bank operating exclusively on the Internet, Ondato has enabled us to work with clients who do not have qualified e. signatures and this has helped us to significantly expand the customer base, increase sales and fulfill its vision of a full-digital bank without paper documents.
We started to cooperate with Ondato three years ago. We needed an easy to integrate one-stop-shop solution in order to evaluate customers financial information. Budget and timing were very strict, and they just nailed it.
Personal data is a core area we work with, so we had three main requirements from Ondato - bank-level security, compliance with GDPR and other international data protection laws and global database coverage. We have got ourselves a very convenient and tailor-made solution.
By taking advantage of good feedback and working their a***s off, The team at Ondato has made big strides in a short time period. They were able to transition from a fairly basic consumer facing product to a complex business solution that is of high interest to financial institutions and global payments companies.
As a leading Lithuanian crowdfunding platform that connects investors with borrowers seeking financing for their real estate development projects, we have been working with Ondato for their identification services and customer onboarding journey. Ondato has allowed us to simplify the client onboarding process and reduce operational costs thanks to its simple and fast integration. For these reasons, we are delighted to be business partners with Ondato.
A customer data platform (CDP) allows companies to manage and securely store the data of their customers. As the storing of data is required by AML regulations, this is especially useful for financial institutions.
When it comes to CDP versus CRM, there's one major difference: CRM focuses on organising and managing customer-facing interactions with your business, while CDP manages data needed for money laundering prevention.
No. Although both customer data platforms and data management platforms collect the same type of data, their targets differ. DMPs primarily pursue third-party data while CDPs focus on structured, semistructured, and unstructured PII first-party data.