Customer Data Platform
Easily manage your user base from a centralized hub no matter whether you're dealing with natural or legal entities. An all-inclusive dashboard covers all the areas from monitoring to tools for external communication.
GET A FREE DEMO
Comprehensive
Management Suite
Complete Userbase Overview
Have all your users in the palm of your hand. Access their cards from a single dashboard, and classify them according to various groups and preferences.
Perpetual Monitoring
Don't rely on self-reporting to manage user data changes in your database. Rely on ongoing monitoring solution that will alert you of the approaching expiration dates or the status of your client.
Instant Communication
Reach out to the users via the same platform. Ask for data updates and clarify suspicious developments in the nick of time.
Track Your Database's Health
Access all the essential metrics and evaluate risk profiles and their developments over time. Form instant reports and always be in the loop of what is happening with your customers.
Data-Driven Analytics
Orchestrate your entire client database. Evaluate their risk profiles, monitor registry changes, and get various business insights delivered straight from the main dashboard. Supervise the complete lifecycle of your customer's journey with one tool.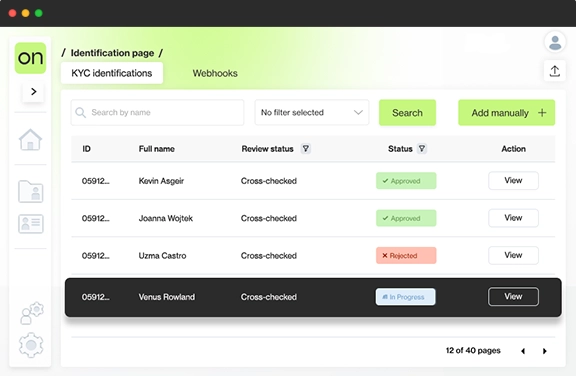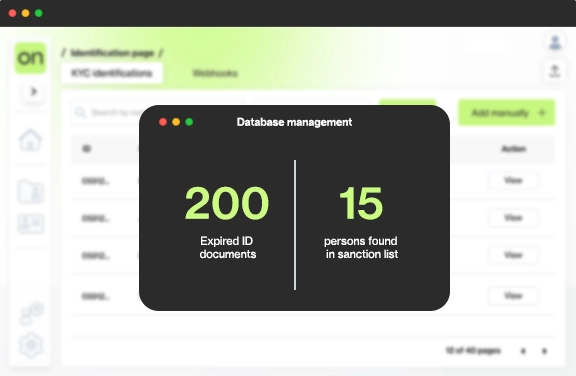 Integrated Database Management Tools
Stay one step ahead of data expirations and stay informed on time. Customize every step of your workflow, including direct contact with your users. Reach out to give reminders or update your data sets with up-to-date information. If there's a precedent, have quick access to reporting toolkit with full action logs.
Monitoring & management tools
Monitoring
Customer Risk Scoring
Registry Monitoring
PEP Monitoring
Adverse Media Monitoring
Sanctions Monitoring
Userbase Analytics
Document Verification
External Communication Tools
Reporting
Case Management Platform
Why Clients Trust Ondato
Ooredoo
Telecommunication
OnlyFans
Internet content subscription services
Compensa
Insurance
Mindaugas Gaulia
Head of Compliance at kevin.
SME Bank
Banking industry
STEX
Crypto industry
SEB
Banking industry
General Financing
Banking industry
Fjord Bank
Banking industry
SAVY
Loan services
CREDITINFO
Financial services
NFT ventures
Financial services
Profitus
Crowdfunding
Citybee
Sharing economy
Choise
Crypto industry
Tonybet
Gambling
A customer data platform (CDP) allows companies to manage and securely store the data of their customers. As the storing of data is required by AML regulations, this is especially useful for financial institutions.
When it comes to CDP versus CRM, there's one major difference: CRM focuses on organising and managing customer-facing interactions with your business, while CDP manages data needed for money laundering prevention.
No. Although both customer data platforms and data management platforms collect the same type of data, their targets differ. DMPs primarily pursue third-party data while CDPs focus on structured, semistructured, and unstructured PII first-party data.