Manual Identity Verification
Fully adapt to your customers and allow manual submissions of the necessary documents to be checked later. Ensure that the used documents are valid and reach the higher compliance status for your user base.
Request a demo
Jurisdiction-Adjusted
KYC Compliance
Upload the necessary data and have your client confirm its identity without the need to be present. Make use of additional channels for secure document verification while handling branch, offline or other operations to avoid fines and ensure regulatory compliance status.
ID Spoofing Checks
Fake IDs aren't going to work. Each is checked through numerous alteration filters cross-referencing registries.
Registry Confirmations
Quickly find out whether the document is valid and isn't altered in any way with local and international registry checks.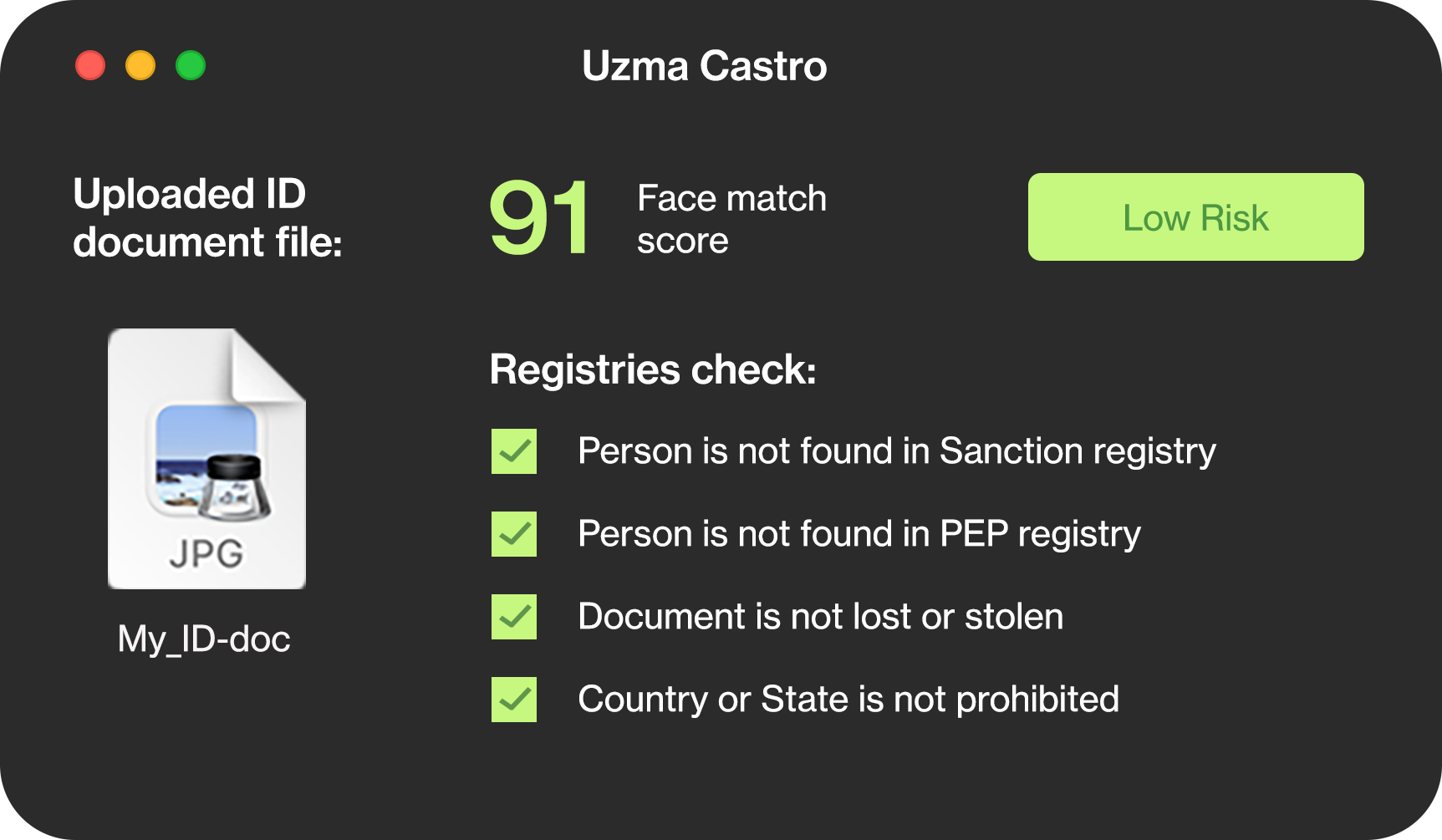 Easier for You Client,
Not the Fraudsters
All the provided data is still run through numerous spoofing checks to verify its legitimacy. There won't be a ticked box under the approved tab if anything raises suspicion that it may be a fraud attempt. It's the same no half-measures approach but more flexibly adapted to your client.
Biometric Security
Trust biometric data with passive liveness analysis for digital images and videos. Ensure identification without requiring active user participation.
Biometric Face Comparison
We have the tech that accurately compares ID documents with the provided face, filtering out identical twins and lookalikes to ensure the highest degree of accuracy.
Flexibility
Make onboarding simple by submitting all the required documents manually. Send everything in one go and get identity confirmation after the documents have been checked.
Productivity
Use Ondato as a centralized hub for document and authenticity confirmation. Get instant registry checks and grab data directly from document photos.
Privacy
Be sure that your information is secured and protected by GDPR directives. We respect your privacy, and all our internal procedures meet the highest quality standards.
Ease-Of-Use
Allow your clients to submit their data and cut all the middlemen. Make the process convenient and time-efficient.
Next-Gen KYC Compliance
Management
Build Your Own Process
Mix and match our modules to create the perfect solution for your problems. Adapt the software to your unique business case, not the other way around.
Integrate with Customer Data Platforms
All our modules can be seamlessly integrated into customer data platforms. There you can manage cases and monitor customer actions after they've onboarded.
Flexibility Meets Innovation
Consistent with Your Branding
Reskin your verification UI the way you want it to look. We'll make sure that it aligns with your branding and tone.
Open Integration
Use our solution without IT integration or add REST API or Mobile SDK to your existing components.
Customized Forms
Customize our forms to your unique business case, and capture all the data you need.
Real-Time Adjustments
Scale up or scale down at will. With Ondato you can create the optimal solution to the most pressing KYC issues.
Process
1
Forms Submission
The client provides the required documents along with any other supplementary information. Once they're sent in, the client's journey is completed, and the specialist takes it from there.
2
Data Checks
All the submitted data is analyzed and cross-checked. From spoofing attempts to expiration dates, every piece is investigated and cross-referenced with international and local registries.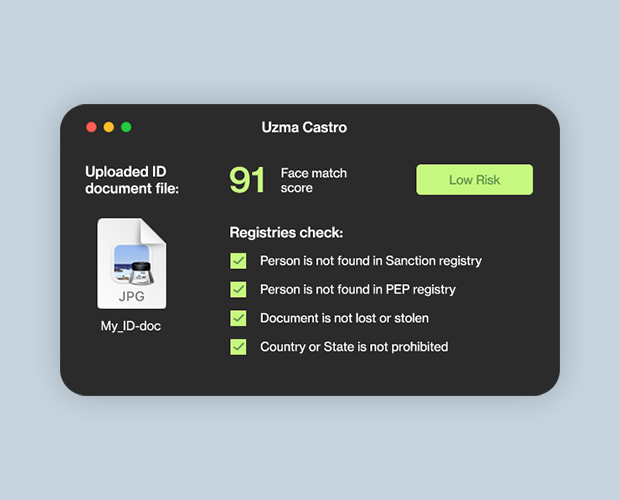 3
Confirmation
If everything seems in order, the identity is confirmed. The client is informed about the outcome or asked to provide other information for resubmission.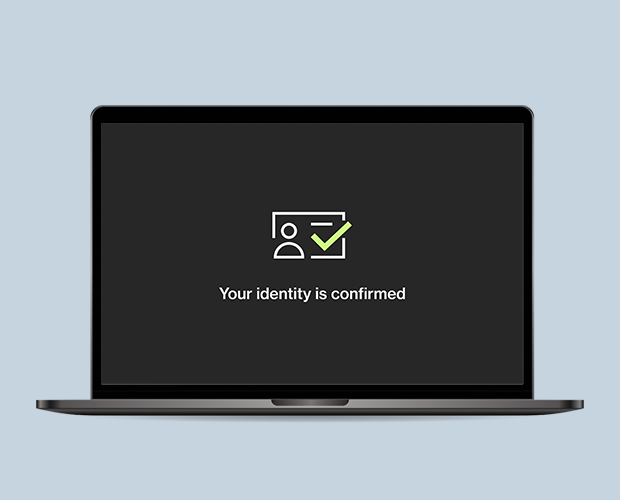 Other Identification Options
Why Clients Trust Ondato
Ooredoo
Telecommunication
OnlyFans
Internet content subscription services
Compensa
Insurance
Mindaugas Gaulia
Head of Compliance at kevin.
SME Bank
Banking industry
STEX
Crypto industry
SEB
Banking industry
General Financing
Banking industry
Fjord Bank
Banking industry
SAVY
Loan services
CREDITINFO
Financial services
NFT ventures
Financial services
Profitus
Crowdfunding
Citybee
Sharing economy
Choise
Crypto industry
Tonybet
Gambling