Video Identity Verification
Remotely verify your customers' identity during a video call under the KYC agent's supervision. Make your onboarding secure and compliant with all compliance requirements.
Request demo
Real-Time ID and
Biometric Data Capture
Our video verification solution is real-time video calling that captures the customers' biometric and document data. The calls are encrypted to ensure the highest level of data security. This method allows KYC specialists to ask additional questions and build personal contact with the customer.
Pain-Free Video Identification
The only thing that your client will need to do is to lift their document near the camera. Everything else will be taken care of during the call.
Choose Your Agents
You have the freedom to use your own KYC agents for the identification process and equip them with our suite. Or, if you prefer, you can fully outsource the checks and use agents provided by Ondato.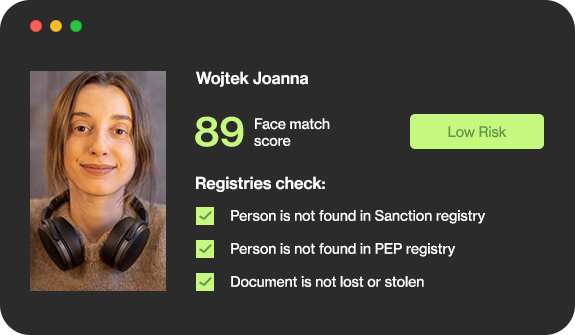 Extract Data Beyond
Document Retrieval
Empower your video call identification with a capture mechanism that includes built-in spoofing checks. While your agent oversees the process, give them the tools to ensure that the used identification documents aren't altered or stolen. If you notice something odd, be in a position to react straight away.
Instant ID Spoofing Checks
Sleeping faces, screens with deepfakes, and masks will be flagged and won't bypass our checks, preventing identity fraud.
Registry Confirmations
Quickly find out whether the identity document is valid and not altered in any way with local and international registry checks.
Direct Contact
Connect with your user directly and form long-lasting client relationships via a video call. This will allow you to make your KYC specialists your company's ambassadors.
Free Your Agents
Give your KYC specialists additional flexibility by allowing your customers to be served from where they are. Turn remote verification video calls into a benefit for all the parties involved.
Keep Security Tight
Enable KYC specialists to evaluate potential new customers with the help of AI-provided data in real-time. Make sure that your specialists are well informed before every decision during the onboarding process.
Reach Out a Helping Hand
Provide uninterrupted assistance with video calling software for your customers until the verification is complete. Solve any questions that pop up instantly, increasing productivity.
Next-Gen KYC Compliance
Management
Build Your Own Process
Mix and match our modules to create the perfect solution for your problems. Adapt the software to your unique business case, not the other way around.
Integrate with Customer Data Platforms
All our modules can be seamlessly integrated into customer data platforms. There you can manage cases and monitor customer actions after they've onboarded.
Flexibility Meets Innovation
Consistent with Your Branding
Reskin your verification UI the way you want it to look. We'll make sure that it aligns with your branding and tone.
Open Integration
Use our solution without IT integration or add REST API or Mobile SDK to your existing components.
Customized Forms
Customize our forms to your unique business case, and capture all the data you need.
Real-Time Adjustments
Scale up or scale down at will. With Ondato you can create the optimal solution to the most pressing KYC issues.
Process
1
Start a Video Call
The user starts a secure video call with the KYC specialist that asks the standard questions. This helps to speed up the video verification process, but it also eliminates potential suspicions from the get-go.
2
Data Capture and Verification
The agent uses interface options taking photos of the user's face and identity documents without disrupting the flow. This makes the process easy and seamless for the user, and feedback can be given in real-time, eliminating potential issues with ID documents or the video verification process.
3
Cross Checks
The gathered data is then cross-checked. The face is matched with an ID document, and numerous supplementary background checks are then performed. This returns a complete picture of the client's identity, informing the KYC specialist what next steps should be taken.
4
Identity Confirmation
If there are no red flags, the user's identity is confirmed, and they can then continue to set up their account.
Other Identification Options
Clients
We Work With
The Ondato KYC solution is a fantastic tool that we always rely on! It simplifies the client onboarding process and lowers our operational costs. The team is quick to respond and eager to hear any concerns or suggestions. Also, they update their tools frequently, so you're always satisfied with their quality of service. We're happy to partner with a great organisation that goes above and beyond for its clients.
As fully digital bank for SMEs, we have been working with Ondato since the beginning. We are happy to have a reliable and professional partner for our client's identification services and bank customer on-boarding journey. Ondato enables us to provide fast and seamless application process for EU member citizens and services to our clients.
Ondato is a trusted and valued business partner. Their market leading age and identity verification technology is a key element of OnlyFans safety controls. We enjoy the close working relationship we have with their team and we know that they value our feedback and reflect this in their product roadmap.
Automated identity verification tool has significantly expanded the limits of our onboarding process while at the same time minimizing all operational costs and saving us a lot of headaches. With Ondato, we can finally be certain that all of our incoming customers are of permitted age and that there will be no unwanted legal or financial surprises.
Secure identity check, verification and onboarding is one of the cornerstones for digital services and society in general, during the Lighthouse program Ondato has shown their excellence in developing a real solution tackling this problem.
Ondato KYC solution allowed us to simplify the client's onboarding process and reduced our operational costs. It was the simplest and fastest integration that we have ever seen, thanks to advising and to the great support of Ondato team.
As a specialized online loan bank operating exclusively on the Internet, Ondato has enabled us to work with clients who do not have qualified e. signatures and this has helped us to significantly expand the customer base, increase sales and fulfill its vision of a full-digital bank without paper documents.
We started to cooperate with Ondato three years ago. We needed an easy to integrate one-stop-shop solution in order to evaluate customers financial information. Budget and timing were very strict, and they just nailed it.
Personal data is a core area we work with, so we had three main requirements from Ondato - bank-level security, compliance with GDPR and other international data protection laws and global database coverage. We have got ourselves a very convenient and tailor-made solution.
By taking advantage of good feedback and working their a***s off, The team at Ondato has made big strides in a short time period. They were able to transition from a fairly basic consumer facing product to a complex business solution that is of high interest to financial institutions and global payments companies.
As a leading Lithuanian crowdfunding platform that connects investors with borrowers seeking financing for their real estate development projects, we have been working with Ondato for their identification services and customer onboarding journey. Ondato has allowed us to simplify the client onboarding process and reduce operational costs thanks to its simple and fast integration. For these reasons, we are delighted to be business partners with Ondato.
All the customer needs to do is have a reliable internet connection and show the identity document to the camera
Yes, a video call is a great way to confirm someone's identity online.