Remote KYB Onboarding and Compliance
Experience a next-gen Know Your Business (KYB) service that is efficient and compliant with all anti-money laundering regulations. From representative rights checking to document signing, build your own electronic identity verification process and easily integrate it into your day-to-day business.
Get a Free Demo
Know Your Business (KYB) options
A Comprehensive Approach To
Business Onboarding
UBO Discovery
Ultimate Beneficial Ownership (UBO) discovery is the core of KYB. Automate the UBO discovery process to benefit from information on the ultimate beneficial owner, avoid money laundering threats, and comply with AML regulations.
Global Databases and Registries
Efficiently prevent money laundering and other financial crimes with the latest registry data. Automatically check the validity of documents, PEP status, and other data with international and local registries.
0% Tolerance for Fake Companies
Our AI-driven solution, KYB specialists and risk-based approach ensure that no fake company can slip through the strict checks. Automated business verification makes your job easier and your company safer as any money laundering attempts can be caught early.
100% KYB Compliance
Always be prepared for KYB, KYC and Anti-Money Laundering regulatory changes while staying in check with GDPR, EBA and ultimate beneficial ownership regulations without breaking a sweat.
One to Many Verification Check
It takes only one representative for all the shareholders to be checked. Saves time and streamlines your business onboarding steps with remote KYB onboarding verification.
What is KYB Onboarding?
Know your business onboarding is the process financial institutions must go through to confirm the legitimacy of any corporate clients. It allows businesses to avoid money laundering attempts as well as recognise the ultimate beneficial owner of any client. An efficient KYB onboarding process not only protects that company but does so in a timely matter.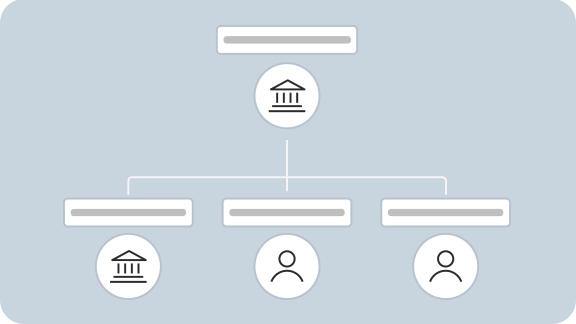 360-Degree Overview of Your Business Clients
During the initial checks, the company representative's background is analyzed, checking the ties with the enterprise in question. Its identity and document legitimacy are verified, and additional checks can be applied. After providing the company input codes and cross-referencing with the registries, KYC forms are filled out, and the only thing left is to sign a document.
Bring Business Onboarding to
the Modern Age
Ondato enables you with tools like ultimate beneficial owner verification, identification and financial reports. Gain instant access to a full company view. Trust AI to grab all the relevant data from various registries and instantly know everything (including the ultimate beneficial owner) about the entity you're dealing with. Cover all bases with one solution whether you're dealing with financial institutions or vendors.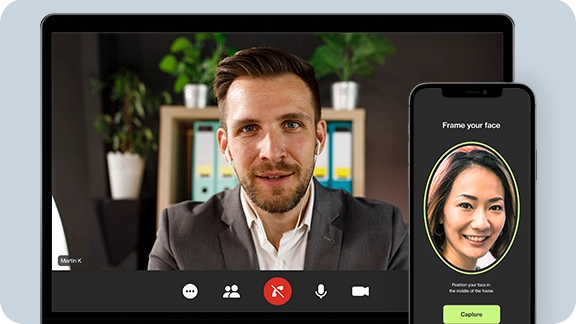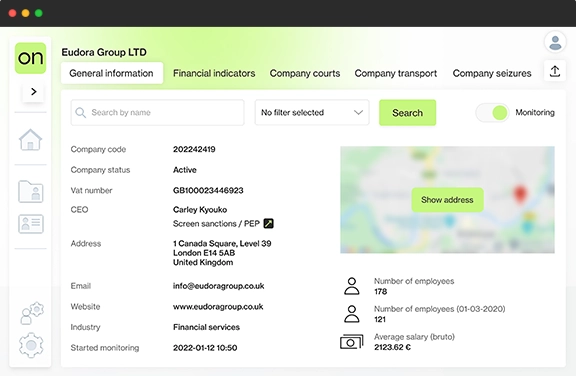 Automated Data Submission
Our system relies on machine learning to detect spoofing attempts and confirm matches between ID and users' faces. After checking and passing business representative rights, the biometrical data is compared and verified by AI. The human specialist adds a final confirmation, ensuring that everything is in check.
Build Your Own Process With
Background Check
E-Mail Risk Scoring
Sanctions Screening
PEP Screening
Registry Screening
Adverse Media Screening
Internal Stop-Lists
Document Verification
OCR
Spoofing Detection
Proof of Address Check
Business Registry Extract/Documents Verification
Legal Entity Document Verification/Submission Module
Biometric Confirmation
Facial Verification
Biometric Face Comparison
Why Clients Trust Ondato
Ooredoo
Telecommunication
OnlyFans
Internet content subscription services
Compensa
Insurance
Mindaugas Gaulia
Head of Compliance at kevin.
SME Bank
Banking industry
STEX
Crypto industry
SEB
Banking industry
General Financing
Banking industry
Fjord Bank
Banking industry
SAVY
Loan services
CREDITINFO
Financial services
NFT ventures
Financial services
Profitus
Crowdfunding
Citybee
Sharing economy
Choise
Crypto industry
Tonybet
Gambling
Currently, we can get reports, financial statements and credit scores from 195 different countries.
We can establish the ultimate beneficial owner in 50 countries.
Business onboarding refers to the processes that allow companies to learn about another company before entering into a business relationship with them. This is required for honest business practices, money laundering prevention, and compliance with other regulations.
Yes. It is one of the main processes that make up KYB and protect businesses from untrustworthy companies.
Know Your Business (KYB) options