Customer Due Diligence (CDD)
Analyse your user base not only during onboarding but long after they have become your existing clients to ensure due diligence is performed. No matter whether they are natural or business entities. Accurately evaluate their risk level and its developments. With our tools, we're making sure that nothing slips by you.
GET A FREE DEMO
Tools for Your Perpetual KYC
Sanctions Screening
Adverse Media Screening
Politically Exposed Person Screening
Ultimate Beneficiary Owner Detection and Screening
Proof of Address Screening
Business Registry Screening
People Registry Screening
IP and Email Risk Screening
A Holistic Approach To
Regulatory Compliance
Global Databases and Registries
Automatically check the validity and other data with international and local registries as well as public and private data sources. Always know the risk assessment of your customers.
Ultimate Beneficial Owner Tracking
Closely monitor all the developments related to UBOs and immediately receive notifications about all the changes. Don't let transparency dissipate after onboarding.
Adaptable to Your Jurisdiction
We can tailor our solutions to stay compliant according to your industry's and legislation's rules. Wherever your company is located, get the specially made tools just for you.
Always up to Date with Regulatory Changes
Be prepared for KYC regulatory changes and stay in check with GDPR and EBA requirements without breaking a sweat.
The Customer Due Diligence Process
CDD is an essential step in preventing money laundering. Financial institutions and other companies can use it to confirm any customer's identity, inspect their financial transactions, and evaluate the customer's risk profile. AML regulations require due diligence to be performed for all new and existing clients.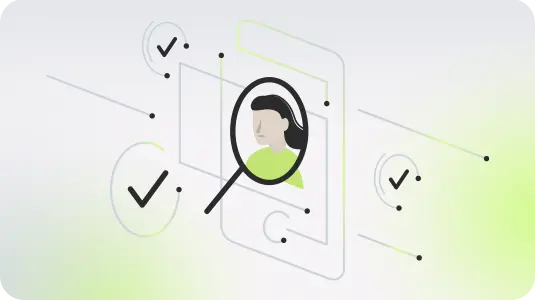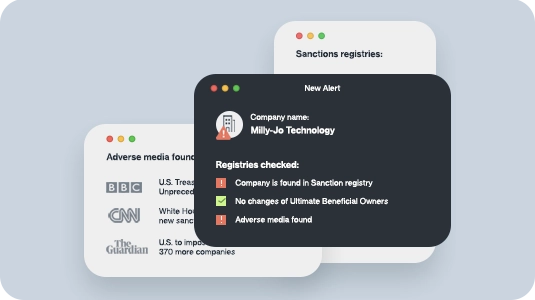 Continuous Background Screening
Perform repeated checks of sanctions, people registry, address, lost/stolen and other customer data changes. Enable AI to take care of reminders and tracking, never letting your customer data go out of date.
Why Clients Trust Ondato
Ooredoo
Telecommunication
OnlyFans
Internet content subscription services
Compensa
Insurance
Mindaugas Gaulia
Head of Compliance at kevin.
SME Bank
Banking industry
STEX
Crypto industry
SEB
Banking industry
General Financing
Banking industry
Fjord Bank
Banking industry
SAVY
Loan services
CREDITINFO
Financial services
NFT ventures
Financial services
Profitus
Crowdfunding
Citybee
Sharing economy
Choise
Crypto industry
Tonybet
Gambling
The customer due diligence process is used by financial institutions and other companies to collect and evaluate relevant information about a current or potential customer.
Due diligence deals with risk assessment. For example, financial institutions that want to onboard a new client or enter into a business relationship with a different company perform due diligence to be aware of the risks, the reputation and any hidden information.
KYC is the broad term for the entire process. CDD is one of the steps that focus on financial profiles and risk levels, and CDD is the key to this process. Customer due diligence deals with collecting and evaluating the customers' information and determining their risk for illegal financial transactions. Both KYC and CDD fall under anti-money laundering (AML) regulations.
There are three levels of customer due diligence: standard, simplified, and enhanced.
Whether you are required to perform EDD or CDD depends on your customer's risk level. If a customer is judged to be low risk, they might only be subject to simplified customer due diligence, where the only requirement is to identify the customer but not verify their identity. For high-risk customers, EDD is required to ensure they are continuously monitored to prevent money laundering.
Yes. The customer due diligence rule is a legal requirement under anti-money laundering regulations.
Customer due diligence has four main requirements: Verify customer identities. Ensure that your clients and business partners are who they say they are. This includes analysing the customer's risk profile. Assess third-party information sources. As due diligence requires third-party information, it is important to understand which sources are reliable. Secure your information. Any data you gather and store needs to be secure, as this data getting leaked can have grave consequences for your business relationships. Use ongoing monitoring when necessary. The correct CDD measures will require that any high-risk customers be continuously monitored after onboarding.