Automated Identity Verification
Identity verification method that's as easy as snapping a picture. Simple for your users but extensive enough to prevent fraud and ensure regulatory compliance.
Request a demo
Identity Document Verification
Take a picture of one of 10,000+ different types of ID document worldwide and our system will pick up the necessary data to fill out the form. At the same time, the data will be checked against numerous ID registries to verify that it isn't stolen or altered in any way. Its authenticity is further assured by a final check provided by a human KYC specialist.
ID Spoofing Checks
Fake IDs aren't going to work. Ondato's checks include multiple alteration filters and cross-references against ID registries.
Registry Confirmations
Quickly find out whether a document is valid and confirm if it hasn't been altered in any way with local and international registry checks.
Face – A Universal ID
While faces are much more complex than documents, we're using technologies that make light work of recognition. Our system checks whether it's a real face or a mask. The checks can even include biometric age evaluation and comparing that to the data provided in a document.
Biometric Security
Unconscious faces, screens with deepfake video feed, and masks will be flagged and won't bypass our checks.
Biometric Face Comparison
We have tech that accurately compares ID documents with faces, filtering out identical twins and lookalikes to ensure the highest degree of accuracy.
Speed
Cut the time that your client has to spend when onboarding, and get every bit of data that you need in under 60 seconds.
Productivity
Cut the costs and maintenance of your workflow instantly with the data tools that confidently confirm your client's identity.
Safety
Get the best of both worlds - the machine and the human specialist. Let AI automate forms and data capture, and identify suspicious activity, and then hand over to a specialist to double-check.
Ease-Of-Use
Boost your conversion rates with a UX created to make your clients' experiences as frustration-free as possible. Any verification snags can be rerouted to another device.
Next-Gen KYC Compliance
Management
Build Your Own Process
Mix and match our modules to create the perfect solution for your problems. Adapt the software to your unique business case, not the other way around.
Integrate with Customer Data Platforms
All our modules can be seamlessly integrated into customer data platforms. There you can manage cases and monitor customer actions after they've onboarded.
Flexibility Meets Innovation
Consistent with Your Branding
Reskin your verification UI the way you want it to look. We'll make sure that it aligns with your branding and tone.
Open Integration
Use our solution without IT integration or add REST API or Mobile SDK to your existing components.
Customized Forms
Customize our forms to your unique business case, and capture all the data you need.
Real-Time Adjustments
Scale up or scale down at will. With Ondato you can create the optimal solution to the most pressing KYC issues.
Process
1
ID Data Extraction
The user takes a selfie and snaps a picture of both sides of its ID document, instantly uploading them to our cloud. Our AI uses optical character recognition and various spoofing detection tools to check the validity of the gathered information and double-check it with various registries.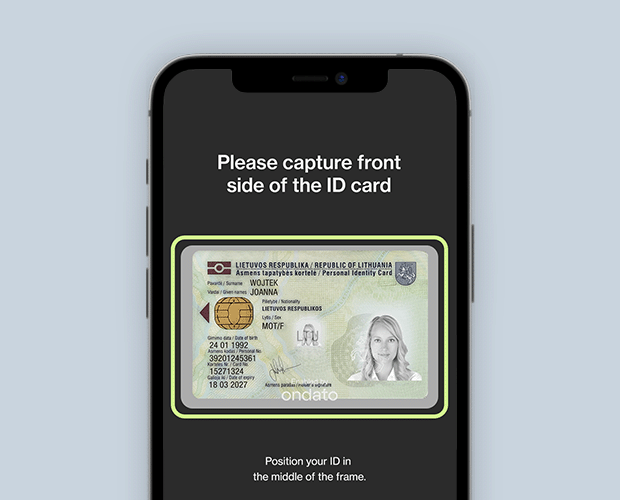 2
Triple Matching
When the ID is genuine and biometrical data analysis returns that the biometric data isn't spoofed, both are compared. If they match, the customer is halfway to having their verification request approved.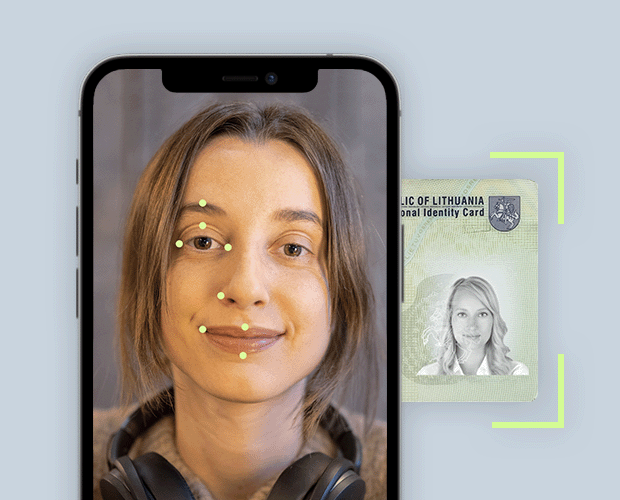 3
Background Analysis
The gathered data is then automatically cross-referenced with sanctions, adverse media, and politically exposed person's screening lists: both in-house and external.
4
Wrapping up
All accumulated information is then given to the dedicated KYC compliance specialist that adds a final confirmation to approve or deny your verification request.
The Ondato KYC solution is a fantastic tool that we always rely on! It simplifies the client onboarding process and lowers our operational costs. The team is quick to respond and eager to hear any concerns or suggestions. Also, they update their tools frequently, so you're always satisfied with their quality of service. We're happy to partner with a great organisation that goes above and beyond for its clients.
As fully digital bank for SMEs, we have been working with Ondato since the beginning. We are happy to have a reliable and professional partner for our client's identification services and bank customer on-boarding journey. Ondato enables us to provide fast and seamless application process for EU member citizens and services to our clients.
Automated identity verification tool has significantly expanded the limits of our onboarding process while at the same time minimizing all operational costs and saving us a lot of headaches. With Ondato, we can finally be certain that all of our incoming customers are of permitted age and that there will be no unwanted legal or financial surprises.
Secure identity check, verification and onboarding is one of the cornerstones for digital services and society in general, during the Lighthouse program Ondato has shown their excellence in developing a real solution tackling this problem.
Ondato KYC solution allowed us to simplify the client's onboarding process and reduced our operational costs. It was the simplest and fastest integration that we have ever seen, thanks to advising and to the great support of Ondato team.
Personal data is a core area we work with, so we had three main requirements from Ondato - bank-level security, compliance with GDPR and other international data protection laws and global database coverage. We have got ourselves a very convenient and tailor-made solution.
We started to cooperate with Ondato three years ago. We needed an easy to integrate one-stop-shop solution in order to evaluate customers financial information. Budget and timing were very strict, and they just nailed it.
By taking advantage of good feedback and working their a***s off, The team at Ondato has made big strides in a short time period. They were able to transition from a fairly basic consumer facing product to a complex business solution that is of high interest to financial institutions and global payments companies.
As a specialized online loan bank operating exclusively on the Internet, Ondato has enabled us to work with clients who do not have qualified e. signatures and this has helped us to significantly expand the customer base, increase sales and fulfill its vision of a full-digital bank without paper documents.
Ondato is a trusted and valued business partner. Their market leading age and identity verification technology is a key element of OnlyFans safety controls. We enjoy the close working relationship we have with their team and we know that they value our feedback and reflect this in their product roadmap.