Automated Identity Verification
A real-time identity verification method that's as easy as snapping a picture. Simple for your users but extensive enough to prevent fraud and ensure regulatory compliance.
Request a demo
Identity Document Verification
Our AI will capture a picture of one of 10,000+ different types of ID documents worldwide, and will automatically pick up the necessary data to fill out the form. At the same time, the data will be checked against numerous ID registries to verify that it isn't stolen or altered in any way. Its authenticity is further assured by a final check provided by a human KYC specialist.
ID Spoofing Checks
Fake IDs aren't going to work. Ondato's checks include multiple alteration filters and cross-references against ID registries for the best fraud prevention.
Registry Confirmations
Quickly find out whether a document is valid and confirm if it hasn't been altered in any way with local and international registry checks.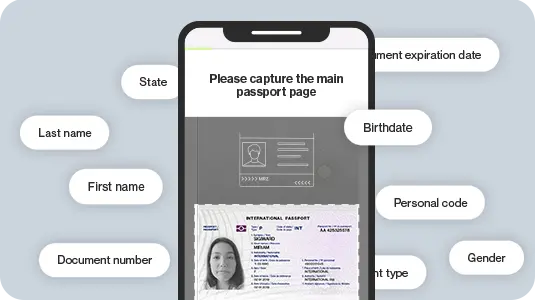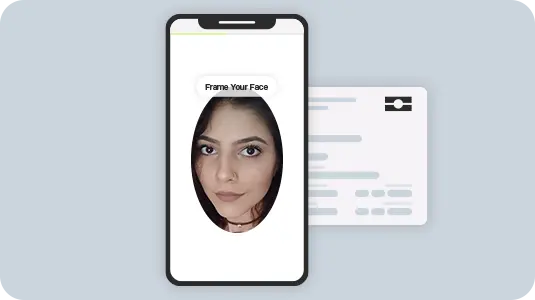 Face – A Universal ID
While faces are much more complex than documents, we're using technologies that make light work of recognition. Our AI automatically captures pictures of the document as well as the user's face. Then the system checks whether it's a real face or a mask. The checks can even include automated age verification and comparing that to the data provided in a document.
Biometric Security
Unconscious faces, screens with deepfake video feed, and masks will be flagged and won't bypass our checks.
Biometric Face Comparison
We have tech that accurately compares ID documents with faces, filtering out identical twins and lookalikes to ensure the highest degree of accuracy.
Speed
Cut the time that your client has to spend when onboarding and get every bit of data that you need in under 60 seconds.
Productivity
Cut the costs and maintenance of your workflow instantly with the data tools that confidently confirm your client's identity.
Safety
Get the best of both worlds - the machine and the human specialist. Let AI automate forms and data capture, and identify suspicious activity, and then hand over to a specialist to double-check.
Ease-Of-Use
Boost your conversion rates with a UX created to make your clients' experiences as frustration-free as possible. Any verification snags can be rerouted to another device.
Next-Gen KYC Compliance
Management
Build Your Own Process
Mix and match our modules to create the perfect solution for your problems. Adapt the software to your unique business case, not the other way around.
Integrate with Customer Data Platforms
All our modules can be seamlessly integrated into customer data platforms. There you can manage cases and monitor customer actions after they've onboarded.
Flexibility Meets Innovation
Consistent with Your Branding
Reskin your verification UI the way you want it to look. We'll make sure that it aligns with your branding and tone.
Open Integration
Use our solution without IT integration or add REST API or Mobile SDK to your existing components.
Customized Forms
Customize our forms to your unique business case, and capture all the data you need.
Real-Time Adjustments
Scale up or scale down at will. With Ondato you can create the optimal solution to the most pressing KYC issues.
Process
1
ID Data Extraction
The user takes a selfie and snaps a picture of both sides of its ID document, instantly uploading them to our cloud. Our AI uses optical character recognition and various spoofing detection tools to check the validity of the gathered information and double-check it with various registries.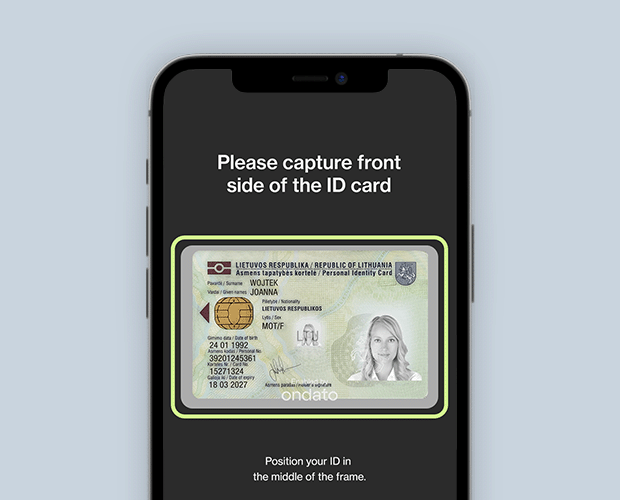 2
Triple Matching
When the ID is genuine and biometrical data analysis returns that the biometric data isn't spoofed, both are compared. If they match, the customer is halfway to having their verification request approved.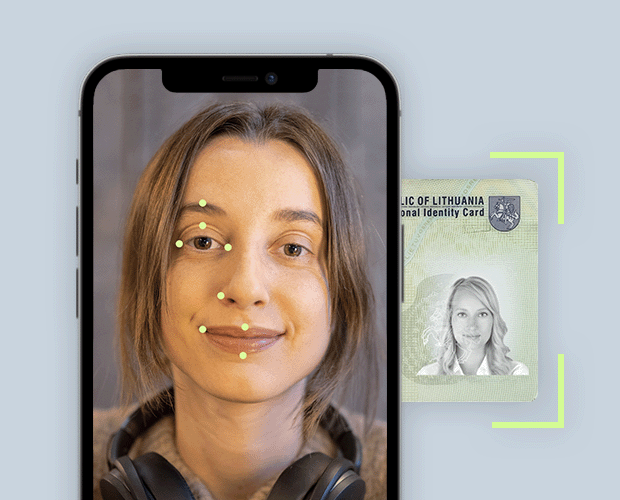 3
Background Analysis
The gathered data is then automatically cross-referenced with sanctions, adverse media, and politically exposed person's screening lists: both in-house and external.
4
Wrapping up
All accumulated information is then given to the dedicated KYC compliance specialist that adds a final confirmation to approve or deny your verification request.
Other Identification Options
Why Clients Trust Ondato
Ooredoo
Telecommunication
OnlyFans
Internet content subscription services
Compensa
Insurance
Mindaugas Gaulia
Head of Compliance at kevin.
SME Bank
Banking industry
STEX
Crypto industry
SEB
Banking industry
General Financing
Banking industry
Fjord Bank
Banking industry
SAVY
Loan services
CREDITINFO
Financial services
NFT ventures
Financial services
Profitus
Crowdfunding
Citybee
Sharing economy
Choise
Crypto industry
Tonybet
Gambling
Automated identity verification is a process designed to allow businesses to confirm user identity in real time. It's made up of various steps that allow it to stay secure, such as biometrics, spoofing checks, document verification, digital footprint analysis, etc.
The three most common methods used are photo-based IDV, video-based IDV, and NFC-based IDV.
Electronic identity verification uses remote processes to confirm identity without hassle. This removes in person branch visits for financial institutions and makes IDV much more convenient for your customers. Online ID verification usually takes a minute or two while in-branch visits might take a few hours.