The fraud epidemic has significant consequences for financial institutions and other regulated industries. Fraud not only significantly impacts banks' and their clients' assets, but it also harms the institutions' reputation and can easily warrant regulatory sanctions.
With so much at stake, organizations have no choice but to learn everything they can about their natural and legal clients. Ensuring that clients are precisely who they say they are can help identify suspicious clients head-on and minimize the risk of money laundering. For this reason, companies are required to implement a rigid customer due diligence process.
What is CDD?
Customer Due Diligence (CDD) is the process of gathering and analyzing identifying information about a current or potential customer. The purpose of CDD is to assess a client's risk score, which determines the likelihood of criminal involvement.
CDD is required by regulations every time a bank or other regulated institution develops a business relationship with a natural or legal client.
Customer due diligence, also known as third-party CDD, is a crucial aspect of the Know Your Business (KYB) process for onboarding customer entities. Know Your Customer, which is dedicated to natural persons, would also be incomplete without it.
KYB and KYC are both Anti-Money Laundering (AML) measures designed to prevent money laundering at the most susceptible institutions, such as banks, insurance companies, and so on.
Customer Due Diligence Regulatory Obligations
Customer Due Diligence requirements vary depending on the regulatory region. However, it usually entails three major responsibilities:
Customer identity verification: Organizations must ensure that they know who their clients truly are. As a result, they should collect identifying information and verify its authenticity from a reliable source. The information includes, but is not limited to, name, surname, address, and photo of the identification document. The customer must also be checked against registries such as the sanctions list and the PEP.
Beneficial ownership: Before entering into a relationship with a customer entity, an organization should establish ultimate beneficial ownership. UBO is a natural person benefiting from an entity's profits.
Business relationship: Organizations are required to obtain and assess the purpose and nature of the business relationship. Additional screening and transaction monitoring are required to verify that the intended purpose is maintained throughout the business relationship.
Ongoing monitoring: Customer information is subject to change at any time. As a result, organizations should monitor information throughout the client lifecycle.
CDD and Risk Scoring
A client's risk score is related to the effectiveness of the costumer due diligence process. Obligated industries are required to assess each client's risk score to handle each case with an individual, risk-based approach.
Risk assessment uses many data points from both the client and independent sources. Each assessment results in low, medium, high risk (sometimes high high risk), and prohibited. When criminal activity is highly unlikely, meaning that a client has received a low risk score, organizations can perform simplified due diligence (SDD). Medium-risk clients require full customer due diligence. However, if a client's risk score is high, obligated organizations should perform enhanced due diligence (EDD).
Simplified Due Diligence: SDD requirements differ based on the regulatory location. However, it usually refers to a less stringent, faster, and simpler approach. It's worth knowing that, even if a low risk client initially shows an extremely low probability of criminal action, ongoing monitoring is critical to ensure that the client's risk score remains constant throughout the relationship.
Enhanced Due Diligence: Performing EDD when required can help companies avoid regulatory penalties. This process is crucial when a client is showing a high risk of money laundering and terrorist financing. It should automatically be performed on PEPs ( politically exposed persons).
How to Streamline the Customer Due Diligence Process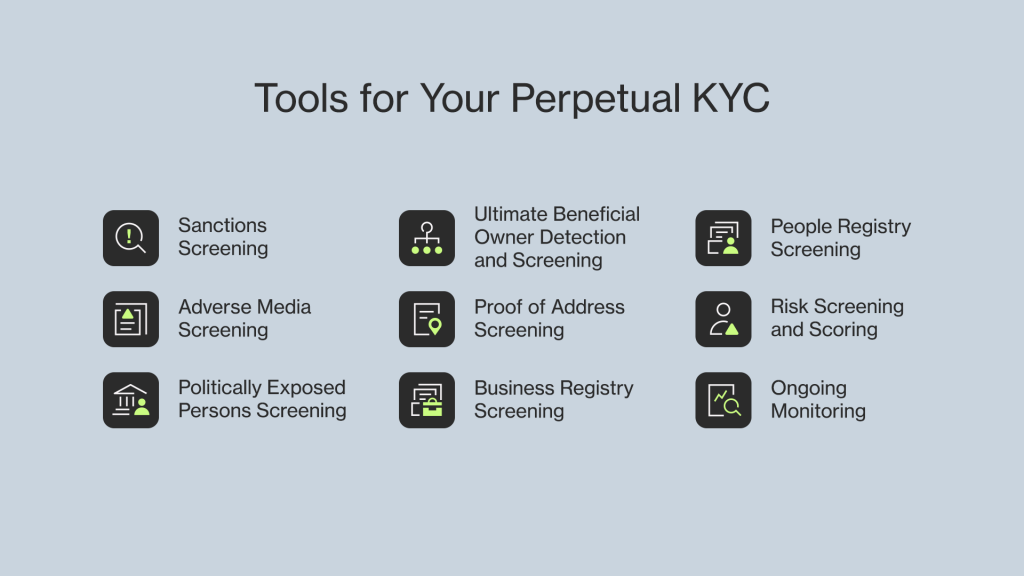 As the number of regulations continues to grow exponentially, organizations need a solution to lift the heavy burden of compliance. This is where regtech comes into play. Organizations can save time, money, and prevent AML violations by implementing an automated, all-in-one compliance tool.
Ondato OS is the only tool available that provides a full AML, KYC, and KYB solution. From customer due diligence to ongoing monitoring, Ondato OS can handle the heavy weight of compliance.
To ensure an efficient customer due diligence strategy, we offer the following solutions that can be easily accessed in our compliance management system:
Sanctions Screening
Adverse Media Screening
Politically Exposed Persons Screening
Ultimate Beneficial Owner Detection and Screening
Proof of Address Screening
Business Registry Screening
People Registry Screening
Risk Screening and Scoring
Ongoing monitoring
You can learn more about Ondato OS and the benefits it provides here.