We are happy to share that G2's Fall Report 2023 awarded Ondato with 8 titles, solidifying us as trusted providers among the best identity verification software. It is a great honour to know that our customers are satisfied with us. In this article, we want to take a closer look at the awards and what they mean to use.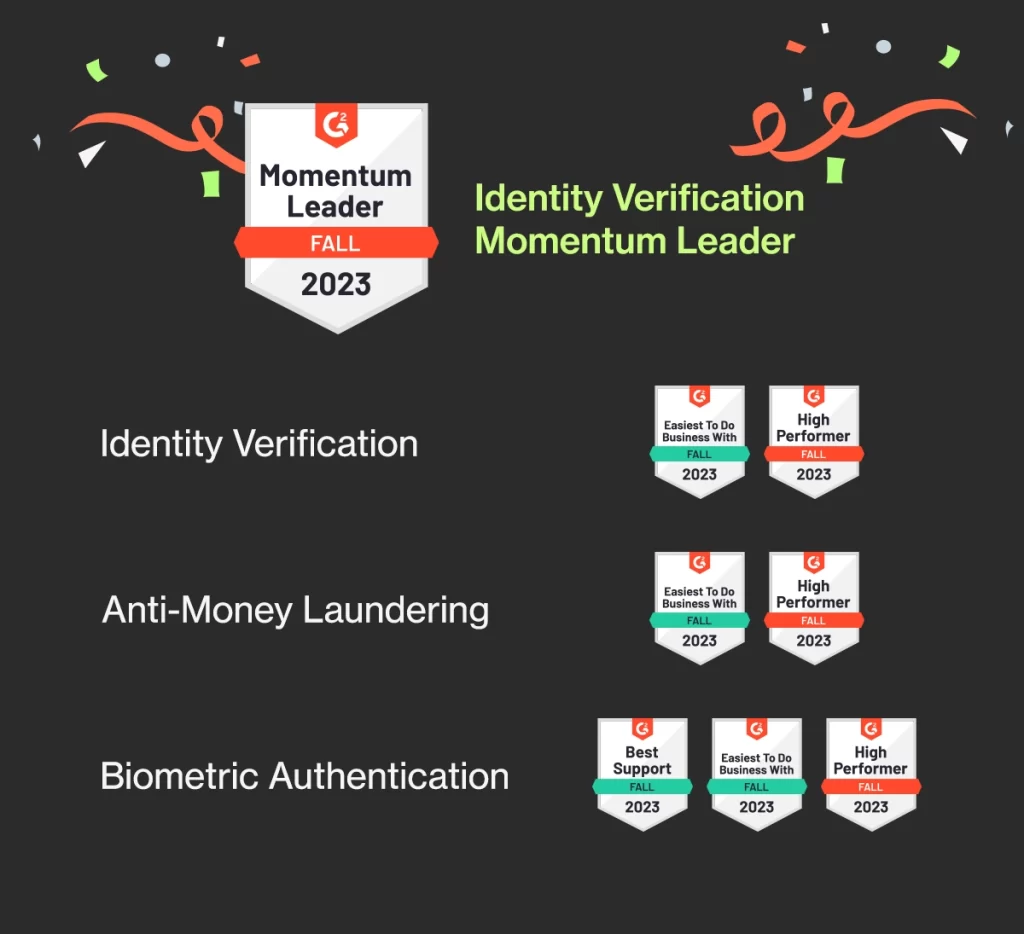 What Awards did Ondato Receive?
Let's take a closer look at the awards Ondato received and what they mean for us:
Leader
Ondato received the Momentum Leader award. Momentum leaders are chosen based on the level of satisfaction from customers, combined with the growth of influential metrics such as social, web and employee presence.
Relationship
The relationship badge is awarded to companies based on a few factors: ease of business, how likely clients are to recommend it and the quality of support. We are very proud to share that we were awarded 3 relationship badges:
Identity Verification Relationship
Biometric Authentication Relationship
Anti-Money Laundering Relationship
Usability
Usability is scored based on the overall usability of the service. This includes factors such as ease of admin, ease of use, and how well the business meets requirements. Ondato was awarded the Usability badge for Identity Verification software.
Implementation
Implementation is focused on deployment and implementation itself, taking into account factors such as the ease of setup, implementation time, and user adoption. As with usability, we were awarded the Implementation badge for Identity Verification Software.
Software
The overall software badges are scored based on customer satisfaction and market presence. Ondato received this award in 3 categories:
Identity Verification Software
Biometric Authentication Software
Anti-Money Laundering Software
Why Choose Ondato?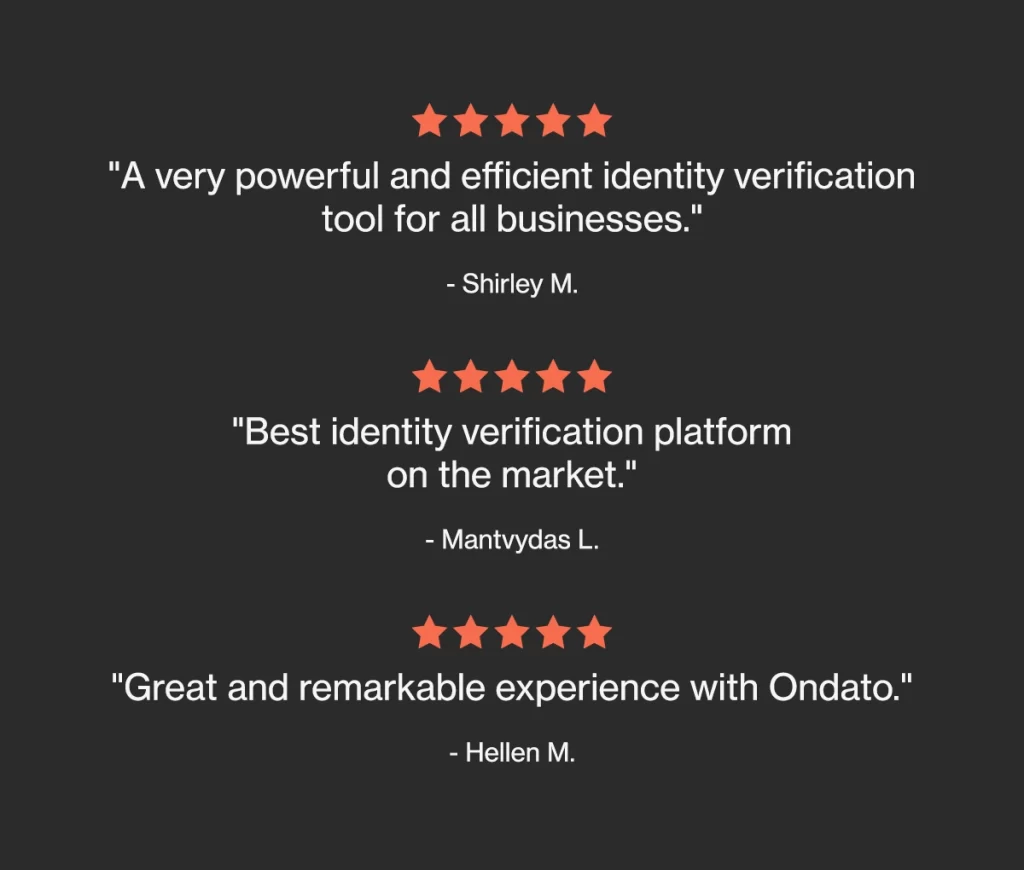 With the awards in mind, let's look at why our customers choose us:
Cost Efficiency
Traditional Know Your Customer (KYC) processes involve substantial expenditures in terms of labour, office space, technology, training, and various other costs. The expenses associated with hiring highly skilled KYC specialists alone can surpass the cost of any compliance solution. Therefore, the integration of an automated compliance service like Ondato can lead to a reduction in overall AML compliance expenses by at least half, if not more, depending on the specific business context.
Enhanced Customer Experience
Digital identity verification offers a seamless and hassle-free user experience. Advances in regulatory technology have made it feasible to effortlessly gather sensitive KYC data and documents from users. By eliminating the need for in-person interactions, customers can become clients of banks or cryptocurrency traders from the convenience of their own homes. The COVID-19 pandemic has underscored the preference of customers for digital services over traditional face-to-face onboarding.
Reduced KYC Processing Time
The correlation between application speed and customer satisfaction is no secret, making it imperative for KYC and AML processes to be as brief as possible to prevent organizations from losing clients. On average, banks spend approximately 18 minutes verifying a client's identity and conducting KYC and AML checks, often leading to customer frustration. Ondato, on the other hand, can significantly reduce processing times, thereby mitigating customer frustration.
Improved KYC Success Rate
Human error is inevitable in manual Know Your Customer processes. Occasionally, specialists may overlook critical pieces of KYC data that could indicate a client's high-risk status. The implementation of AI-based Regtech solutions can substantially enhance the success rate of the verification process. These solutions are adept at identifying document alterations and spoofing attempts, minimizing potential risks effectively.
G2 serves as a platform where individuals can share their thoughts and experiences concerning software services and products. This platform predominantly focuses on B2B solutions and stands as one of the premier destinations for assessing business software, including identity verification tools. G2 provides an array of user reviews and ratings, complemented by expert analyses spanning various software categories. Their aim is to furnish comprehensive and impartial insights into diverse software packages, aiding businesses in making informed software selections.
G2 relies entirely on user feedback and reviews for its award determinations. Buyers can place trust in their choices as the reviews undergo rigorous verification to ensure authenticity. G2 hosts reviews for numerous identity verification solutions currently available in the market. Sara Rossio, Chief Product Officer at G2, explains, "G2's rankings are derived from information provided by real software purchasers. Prospective buyers can rely on these insights when researching and choosing software because they are rooted in thoroughly vetted, verified, and genuine reviews."