Our AML monitoring solution enhances the overall security of financial institutions and businesses. It allows you to monitor PEPs, sanctioned parties, business client information and more while ensuring a constant flow of accurate data.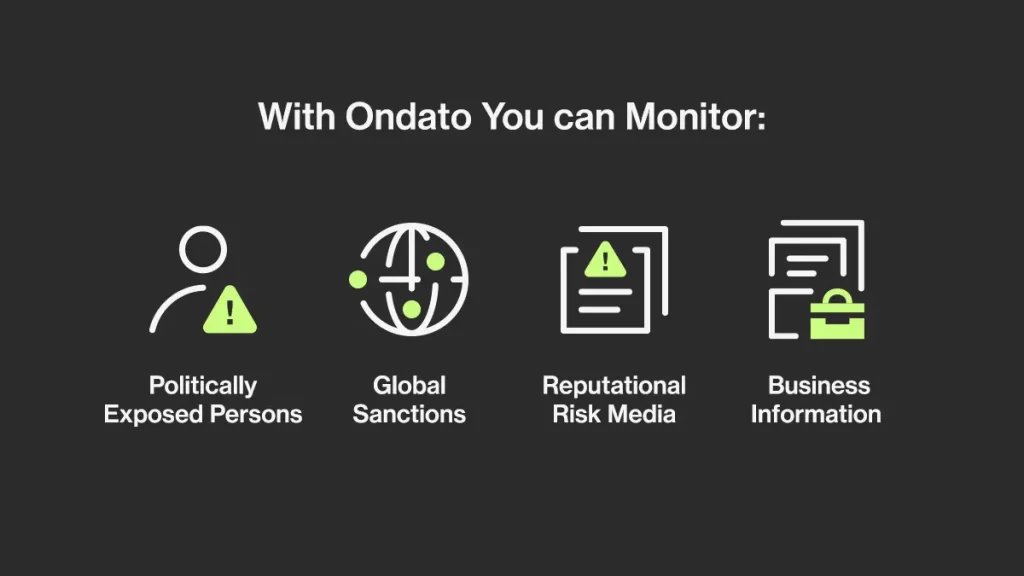 AML Monitoring the Right Way
To create the most convenient AML monitoring solution, we made sure to include a few key elements. The solution is:
Time-Saving
Our solution allows you to investigate numerous clients simultaneously, with no need for individual checks, thus ensuring an efficient and time-saving process.
Customizable
The decision is always left to you. You can fully customize the lists of customers you want to monitor, the rules you want to apply to them and what you consider suspicious enough to report. Decide which clients you want to monitor and how often you want to run additional checks.
Unlimited
Your clients can be divided into an unlimited number of lists, all with different rules, to ensure you get the most accurate information.
Pay-as-you-go
As the necessity to monitor clients is prone to change, we have made sure to provide a solution that only requires you to pay for the checks you use.
Compliant
Our solution works on the recommendations of the Financial Action Task Force. All of our audits depend on the current regulations to ensure you are always following the latest AML guidelines.
Ondato's AML Monitoring Tools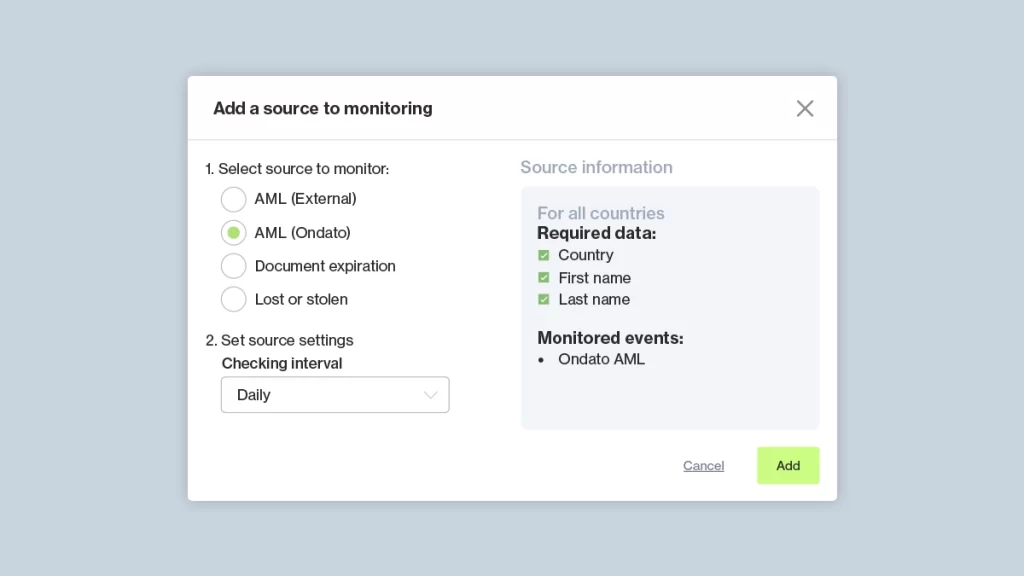 Politically Exposed Persons
Get detailed insights into the backgrounds of individuals with prominent public roles. Stay informed with daily updates and precise insights into risk scores, as well as details about Relatives and Close Associates (RCAs) with over 16 million PEP profiles.
Global Sanctions
Keep your client screenings up-to-date using data that updates every 3 hours, including a global sanctions list with information from every relevant sanctioning body, including the EU Consolidated List of Sanctions, UN Sanctions, and OFAC Sanctions List.
Reputational Risk Media
This solution enables institutions to instantly detect risk-related news pieces about their clients and partners. Our system scans 6.5 million articles daily, delivering accurate and high-quality information that allows you to react accordingly.
Business Information Monitoring
Don't overlook any critical details with business information across 198 countries. Our business information monitoring ensures you're always in the loop with the latest customer information and any possible changes, enabling proactive risk management.